Season 1 Overview
When a flying saucer crashes in the Mojave Desert, its inhabitants turn out to be alien slaves, bred to be super intelligent and strong, as well as controllable by their Overseers. These Tenctonese, or "Newcomers", have been assimilated into the population of Los Angeles. One of them, George Francisco, is a police detective with a human partner, Matthew Sikes. George and Matt fight crime together, while learning to respect the other's culture, and question his own. They also fight prejudice as personified by the Purists, and fear, in the form of the unseen Overseers, who seek to regain control over their slaves.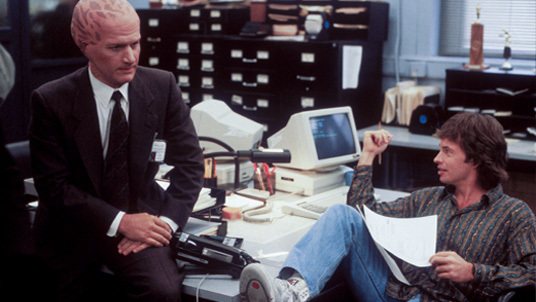 Cast Bios
Gary Graham

Detective Matthew Sikes is the human police partner of Francisco. While at first he was reluctant to work with a Newcomer, Sikes gets over his prejudices and he and George become good friends, though he is still adjusting to Tenctonese customs.

Gary Graham continued to play Sikes in the Alien Nation television movies. He also appeared in M.A.N.T.I.S., JAG, Star Trek: Enterprise, and The Jace Hall Show. He also starred in the film Robot Jox. Graham attended the University of California and was originally pre-med.

Eric Pierpont

Detective George Francisco is the Tenctonese police partner of Sikes, as well as a devoted father and husband. He is close friends with his partner. He longs to go to his home planet, Tencton, though he has never been there as he was born on the slave ship.

Eric Pierpont went on to reprise his role of Francisco in the Alien Nation television movies. He appeared in the movies Liar Liar and Holes. Other TV credits include Fame, Chemistry, Hart of Dixie, and, like his costar Graham, Star Trek: Enterprise. He has also done many theater productions. Pierpont wrote a children's novel, The Last Ride of Caleb O'Toole, for which received the 2013 Reading the West Book Award.

Michele Scarabelli

Susan Francisco is George's wife and the mother of Emily and Buck. While on the slave ship she was part of the Udara, a resistance movement. On Earth, she works for an advertising agency.

Michele Scarbelli's other television credits include Airwolf II, Dallas, Okavango: The Wild Frontier, and Seven Little Monsters. She also continued to play Susan in the Alien Nation television movies. Scarabelli has Canadian, US, and European citizenship.

Sean Six

Buck Francisco is George and Susan's eldest child and brother to Emily. Buck is a teenager who often gets himself into trouble and is trying to find connection and meaning in his life. He feels disconnected from his father and disagrees with the way his parents have attempted to blend into Earth's society; he sees it as a rejection of their Tenctonese origins.

Sean Six reprised his role of George in the Alien Nation television movies. His only other acting credit was an appearance on the show Millenium. Six landed his role in Alien Nation after the producers saw a video of him acting in a play he co-wrote with a friend.

Lauren Woodland

Emily Francisco is George and Susan's daughter and the younger sister of Buck.

Lauren Woodland is best known for her work on The Young and the Restless, which she has been appearing on since 2000. Other television appearances include Quantum Leap and Sunset Beach, and films include The Doorway and Beautiful Dreamer. She also continued to play Emily in the Alien Nation television movies. Woodland graduated Magna Cum Laude from USC.

Terri Treas

Cathy Frankel is a Tenctonese bio-chemist who not only analyzes much of Sikes and Francisco's evidence from their cases, but is also Sikes' neighbor. The two also share an on again-off again flirtation. Frankel is known for her sweet-natured and outgoing personality.

Terri Treas continued to play Cathy in the Alien Nation television movies. Television credits include Seven Brides for Seven Brothers, Knight Rider, Santa barbara, and The A-Team. Film credits include The Terror Within, Death Stalker and the Warriors from Hell, and Black Widows. Treas doesn't just work in front of the camera: she directed her first movie in 1992 and has also written some television series episodes.

Jeffrey Marcus

Albert Einstein works as a janitor at the police department and his a close friend of the Francisco family. He has acted as a Binnaum for the family, helping them to have their daughter Emily.

Jeffrey Marcus continued his role of Albert in the Alien Nation TV movies. Other TV credits include the series NYPD Blue, JAG, and Baby Daddy, and the movies McBride: It's Murder, Madam, Our House, and Mystery Woman. He had small appearances in the films Frozen, Just Like Heaven, and Freaky Friday. Marcus runs an acting class and coaches actors in Los Angeles.

Ron Fassler

Captain Byron Grazer is the human police captain and superior to Sikes and Francisco.

Ron Fassler has many television credits, including The Fresh Prince of Bel-Air, Sisters, Zeke and Luther, The Young and the Restless, and Side Order of Life. Film appearances include Watchmen, Charlie Wilson's War, and Flags of Our Fathers. He went on to play Grazer in the Alien Nation TV movies. Fassler is also a writer: he wrote for Murphy Brown as well as the Lifetime film Be Careful What You Wish For.