Season 3 Overview
Although the third and final season, the action isn't slowing down any time soon! The escapades are as thrilling as ever as the Biker Mice travel through time and space protecting Earth and its resources.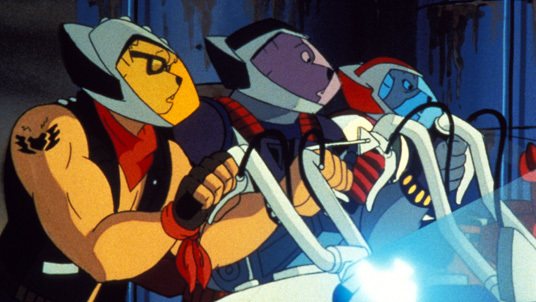 Cast Bios
Ian Ziering

Vinnie is the thrill-seeker and self-proclaimed lady-killer who often volunteers for the most dangerous tasks. He is wild and fun loving, though also egotistical. Due to the side of his face being burned in an incident on Mars, he wears a flexible faceplate.

Ian Ziering is most known for staring on the hit show Beverly Hills, 90210. Other shows he has appeared in are CSI: NY, JAG, and Melrose Place, and he competed on the fourth season of Dancing with the Stars, going all the way to the semi-finals. Most recently, Ziering has found great success with the Sharknado franchise, which has become a pop culture and social media hit. Ian started his own clothing line, Chainsaw Brands (the name inspired by his Sharknado character).

Rob Paulsen

Throttle is the logical and calculating leader of the trio. After an incident on Mars caused him to lose his eyes, he was given bionic eyes and now utilizes sunglasses with field spec capabilities. He is also the only one to carry a weapon or wear clothes instead of armor.

Rob Paulsen has had an extensive career as a voice actor, appearing in many animated shows for over 30 years. Most notably, he was the voice of Yakko Warner in Animaniacs, Pinky in Pinky and the Brain, and Raphael in the animated Teenage Mutant Ninja Turtles series that ran from 1987-1996. In 1995 Paulsen was nominated for an Annie Award in Oustanding Individual Achievement for Voice Acting in the Field of Animation for his role as Yakko.

Dorian Harewood

Modo is the gentle giant of the trio. Though he is the largest and strongest of the group, he is also the most empathetic and sensitive. He lost his arm and now uses a robotic arm with a built-in laser cannon.

Dorian Harewood has done voice work for many series including The Legend of Prince Valiant, Sonic the Hedgehog, Iron Man, and The Batman. He has also done live acting in Roots: The Next Generations, Strike Force, The Trials of Rose O'Neill, 7th Heaven, and House of Payne. Film credits include Full Metal Jacket, Sudden Death, and Space Jam. Like his Biker Mice co-star, Rob Paulsen, Harewood voiced a character in Teenage Mutant Ninja Turtles: Shredder.