Season 1 Overview
History Professor Sydney Fox (Tia Carrere) moonlights as an intrepid explorer, crisscrossing the globe in pursuit of lost icons - from the four-thousand-year-old bowl of Siddhartha to a 1946 baseball glove with magical powers. With her knowledge and passion for adventure, Sydney is sought out by a variety of clients - including government agencies, museum curators, religious leaders and politicians, plus the quirky and devious - to find the precious artifacts which they covet. She is always in pursuit of a priceless lost relic, and she truly proves that history is an ongoing adventure, sustained only by those whose courage and passion brings the treasures of the past into the present.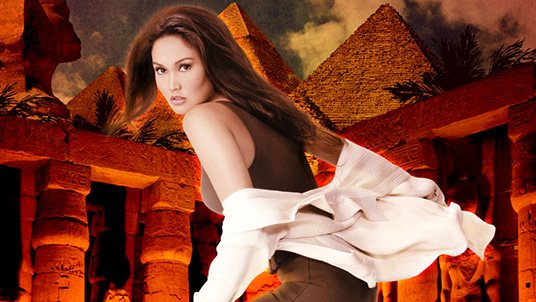 Cast Bios
Tia Carrere

Sydney Fox is the Professor of Ancient Studies at Trinity College who travels the globe finding lost or stolen historical artifacts. She is proficient in both hand-to-hand and weapons combat. Sydney has many contacts all over the world, in the archaeological fields and otherwise, and is very protective of both her assistants, as well as her students and colleagues.

Tia Carrere is best known for her work in the films Wayne's World, Wayne's World 2, and True Lies. She had a stint on General Hospital and has voiced characters in many children's programs, such as Lilo and Stitch, Johnny Bravo, and Scooby-Doo! Mystery Incorporated. Tia has appeared in several El Rey favorites, including The A-Team, Quantum Leap, and Airwolf. She is also an acclaimed Hawaiian singer with two Grammy awards.

Christien Anholt

Nigel is Sydney's reserved British teaching assistant and companion who accompanies her on her travels whilst searching for the relics. Nigel often finds himself in situations that are uncomfortable and needs Sydney's help to get out of them.

Anholt has appeared in several films, including Hamlet, Reunion, for which he received a Best Actor nomination at the Cannes Film Festival, The Harpist, for which he received a Best Actor nomination at the Geneva Film Festival, Class of '61, and Dark Corners. Anholt is also a talented stage performer and has appeared in many plays.

Lindy Booth

Claudia is Sydney's student office assistant and the spoiled daughter of one of the college's major donors. She helps Sydney and Nigel from the campus back home while they are abroad, and sometimes plays a vital role in finding the relic. Claudia possesses the skill of organizing unorthodox and creative solutions to travel difficulties that Sydney and Nigel face, and shares witty banter with Nigel. She occasionally joins Sydney and Nigel in the field.

Lindy Booth has held roles in several series, including The Librarians, The Philanthropist, NCIS, and October Road. She has also appeared in the films Dawn of the Dead, Wrong Turn, and Cry Wolf. Booth may have had a bit of deja vu while starring in The Librarians, as it is also about a team traveling around finding magical, ancient artifacts.