Season 2 Overview
Return to the world of Stargate! In the highly anticipated second season, the team encounters a Goa'uld resistance movement and forms an alliance with the Tok'ra.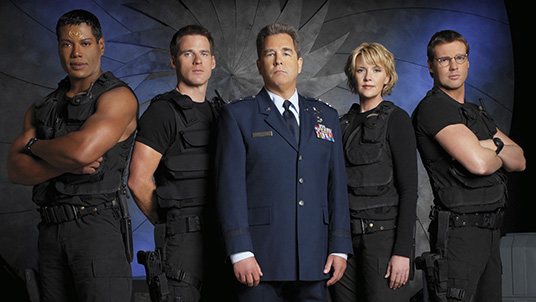 Cast Bios
Amanda Tapping

Major Samantha Carter is an astrophysicist and USAF Captain who joins the SG-1 team after years spent at the Pentagon trying to get the Stargate operational.

Tapping continued to play Carter in Stargate: Atlantis, SGU Stargate Universe, Stargate: The Ark of Truth, and Stargate: Continuum. She starred in the series Sanctuary and has been in other sci-fi projects including the series' Outer Limits and Supernatural, and the film Space Milkshake. Amanda co-founded the Canadian comedy group "Random Acts".

Christopher Judge

Teal'c is a Jaffa warrior from the planet Chulak. Though he attained the most senior rank under System Lord Apophis, Teal'c leaves his position to join the SG-1 team, hoping to defeat the Goa'uld and achieve freedom for all Jaffa.

Judge played Teal'c in Stargate: The Ark of Truth and Stargate: Continuum. He voiced characters in X-Men: Evolution and Wacky Races. Other credits include the television series' 21 Jump Street, NCIS: Los Angeles and The Mentalist, and the film Mega Shark vs. Mecha Shark. Christopher wrote four episodes of Stargate SG-1.

Michael Shanks

Dr. Daniel Jackson is an archaeologist who joins the SG1 team to save his wife and brother-in-law, who have been abducted by the Goa'uld.

Shanks reprised his role of Daniel Jackson in Stargate: The Ark of Truth and Stargate: Continuum. He had guest roles in Stargate: Atlantis, SGU Stargate Universe, 24, Smallville, and Burn Notice. He starred in the series Saving Hope. Shanks is adept at ice hockey and even played Gordie Howe in a biographical television film.

Richard Dean Anderson

Jack O'Neill is a USAF colonel and Air Force Special Ops veteran who is persuaded out of retirement to lead the SG-1 team.

Anderson is best known for starring in the series MacGyver. He made guest appearances playing O'Neill in Stargate: Atlantis and SGU Stargate Universe, and also played the character in Stargate Continuum. Other TV credits include Legend and Fairly Legal. Anderson had a variety of odd jobs including whale handler, musician in a medieval dinner theater, and street mime and juggler.