Season 5 Overview
The fifth and final season offers an exciting conclusion to the Atlantis saga. The team sets out to stop Michael, destroy the Wraith, and once again save both Atlantis and Earth.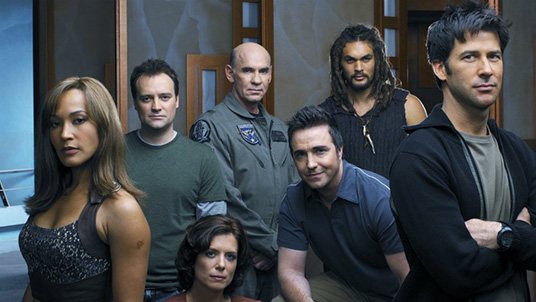 Cast Bios
Joe Flanigan

John Sheppard is a USAF officer who joins the Atlantis team when he discovers he has a gene allowing him to activate Ancient technology. He then becomes the leader of Atlantis' military.



Flanigan starred in the TV movies Ferocious Planet and Thoughtcrimes. Other television credits include Sisters, Cupid, Profiler, and First Monday. He also wrote for the series and created the stories for two of the episodes.

Rachel Luttrell

Teyla Emmagan is the leader of the Athosians. She joins the Atlantis team to fight the Wraith.

Other series' Luttrell has appeared in are Street Legal, Charmed, Touched by an Angel, NCIS and NCIS: Los Angeles, and Girlfriends' Guide to Divorce. Luttrell is very musical: she is a singer with a Jazz album, studied ballet at the Russian Academy of Classical Ballet School, and studied piano at The Royal Conservatory of Music.

David Hewlett

Rodney McKay is head of the Science and Research Department on Atlantis.

Hewlett appeared in the films Cube, Rise of the Planet of the Apes, and best picture winner The Shape of Water. Series credits include Traders, ER, The Closer, State of Syn, and Incorporated. Hewlett's sister, Kate Hewlett, appeared in Stargate: Atlantis as McKay's sister.

Jason Momoa

Ronon Dex is a military specialist who joins the team after they remove a tracker that caused him to be hunted by the Wraith for seven years.

Jason Momoa is best known for his roles as Khal Drogo on Game of Thrones and as Aquaman in The Justice League. He starred in Conan the Barbarian and appeared in Bullet to the Head alongside Sylvester Stallone. Other television series include Baywatch, North Shore, The Red Road, and Frontier. Momoa knows martial arts and Brazillian jiu-jitsu.

Torri Higginson

Dr. Elizabeth Weir is a diplomat who leads the Atlantis Expedition after serving as the head of Stargate Command.

Other series' Higginson has appeared in are Deep in the City, Inhuman Condition, This Life and Dark Matter. Film credits include Turning Paige and The English Patient, and the television movie, The City, for which she won a Gemini Award. Higginson attended London's Guildhall School of Music and Drama with Ewan McGregor.