Season 6 Overview
Xena: Warrior Princess, the groundbreaking series that redefined the female action hero on television, returns for an exciting sixth season. Things have changed dramatically in the Xenaverse as the result of astonishing events that occurred last season.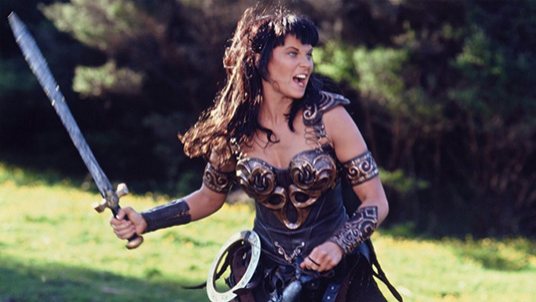 Cast Bios
Lucy Lawless

Xena is a fierce warrior who was once known as the "Destroyer of Nations". Haunted by the sins of her past, she fights for the greater good to right her wrongs.


Lawless' other television credits include Tarzan, Battlestar Galactica, Spartacus: War of the Damned, Parks and Recreation, and, most recently, Ash vs Evil Dead. She has been in the films EuroTrip, Bedtime Stories, and The Changeover. Lucy is also a singer, performing on Broadway as Rizzo in the Grease revival and in two musical Xena episodes.

Renee O'Connor

Gabrielle is Xena's travel partner, ally, and closest friend. She starts off as a simple farm girl, but grows to become a strong warrior in her own right.

O'Connor focuses on appearing in and producing independent films, including Beyond the Farthest Star, A Question of Faith, and Watch the Sky. She also started her own production company, ROC Pictures.

Kevin Smith

Ares is the God of War, Xena's antagonist who also harbors feelings for her. Ares and Xena's relationship is complicated as they vacillate between being enemies and allies. Ares was also the one to give Xena her signature weapon, the chakram.

Kevin initially appeared on The Legendary Journeys as Hercules' half-brother, along as starring in Young Hercules. Later he joined the cast of Xena: Warrior Princess as Ares. Kevin married his high school sweetheart, Suzanne, with whom he had three sons: Oscar, Tyrone, and Willard. In a tragic accident Kevin lost his life in 2002 at age 38.