Season 4 Overview
The fourth season of this long-running hit added new legions to its rabid fan base. The statuesque and leather-clad Xena who was first introduced in Hercules: The Legendary Journeys, together with the high-spirited young woman named Gabrielle, her worthy cohort, travel across the land in a relentless mission to help people free themselves from tyrrany and injustice.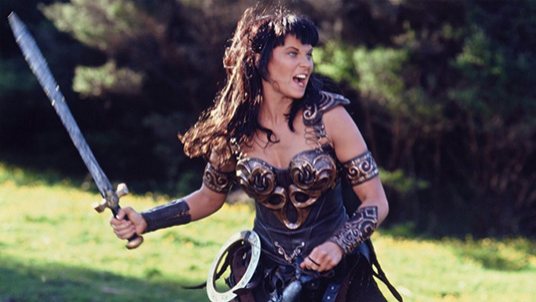 Cast Bios
Lucy Lawless

Xena is a fierce warrior who was once known as the "Destroyer of Nations". Haunted by the sins of her past, she fights for the greater good to right her wrongs.


Lawless' other television credits include Tarzan, Battlestar Galactica, Spartacus: War of the Damned, Parks and Recreation, and, most recently, Ash vs Evil Dead. She has been in the films EuroTrip, Bedtime Stories, and The Changeover. Lucy is also a singer, performing on Broadway as Rizzo in the Grease revival and in two musical Xena episodes.

Renee O'Connor

Gabrielle is Xena's travel partner, ally, and closest friend. She starts off as a simple farm girl, but grows to become a strong warrior in her own right.

O'Connor focuses on appearing in and producing independent films, including Beyond the Farthest Star, A Question of Faith, and Watch the Sky. She also started her own production company, ROC Pictures.

Ted Raimi

Joxer is Xena and Gabrielle's good and loyal friend. He desires to fight for justice, and is often the group's comic relief.

Raimi's film credits include Born Yesterday, Patriot Games, Clear and Present Danger, and the Spider-Man series. On television, he's been on Twin Peaks, CSI: NY, Supernatural, and besides Xena he's best known as communication officer Lt. Tim O'Neill on seaQuest DSV. Raimi wrote the original "Joxer the Mighty" song with help from director Josh Becker for Xena.