Season 2 Overview
At the end of Season 1, Ben was shocked to learn there is a mole in Station 19, someone whose betrayals have lead to the deaths of at least three officers. Ben begins Season 2 spying on his own squad, with Nick Barron as the prime suspect. As Nick and Ben's partnership grows and deepens, so does Ben's sense of betrayal. When Ben realizes he's in love with Nick's sister Amelie and rekindles his relationship with her, the stakes only rise. For his part, Nick becomes invested in exploring his own identity by reconnecting with his career-criminal cousin Kaz and investigation the fate of his father, who disappeared when Nick was a teenager. On the job, Nick is ready to forge a real partnership with Ben.
In Season 2 we discover both Ben and Nick have secrets that cannot stay buried for long.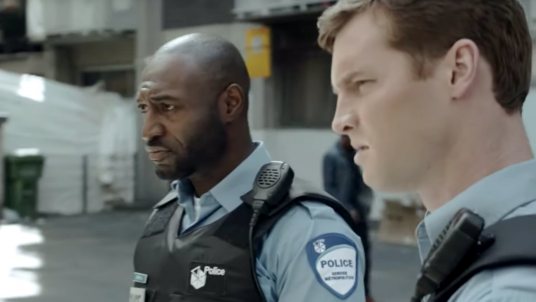 Cast Bios
Adrian Holmes

Nick Barron is a tough, strong-willed beat cop who has spent many years trying to keep the streets of Montreal safe. He is known to be intelligent and empathetic, but also has a reputation for breaking rules and taking situations into his own hands. After witnessing his partner get shot in the head, Nick is struggling with trauma and guilt, while also reluctantly working with his new "rookie" partner, Ben.

Adrian Holmes had a love of theater and performing from a young age. He has been seen in major series, such as Smallville and Arrow, as well as the films Skyscraper, High-Rise Rescue, and Elysium. Holmes won the Canadian Screen Award in 2017 for Best Lead Actor in a Dramatic Series for his role as Nick Barron.

Jared Keeso

Ben Chartier has recently made the move from the country to the city, arriving with emotional baggage and a complicated past. He is honest and amiable, but still struggles to connect with his new partner Nick. Though he is experienced, being the new guy in the 19th precinct means he is seen as a rookie.

Jared Keeso stars in the comedy series, Letterkenny, for which he won the Canadian Screen Award for Best Lead Actor in a Comedy Series. He also appeared in the sci-fi series Falling Skies. He appeared in the films I Love You Beth Cooper and, along with his 19-2 co-star Adrian Holmes, Elysium. Keeso has quite the acting range: along with winning a CSA for comedy, he was also nominated two years in a row for Best Performance by an Actor in a Continuing Leading Dramatic Role for 19-2.

Mylene Dinh-Robic

Beatrice "Bear" Hamelin is a practical and serious beat cop with a good rapport with her squad. Along with her daily duties, she must deal with her partner, Tyler's, struggles with sobriety, as well as an infatuation with fellow cop, Audrey.

Mylene Dinh-Robic has had a long acting career appearing in theatrical productions and on screen, as well as being heard in video games. She had roles in the series The Listener and DaVinci's City Hall, and has co-produced and co-starred in the plays 'Beirut' and 'Point no Point'. Mylene was nominated for best supporting actress in 2015 for her role as Beatrice Hamelin at the Montreal ACTRA Awards.

Benz Anotine

Tyler Joseph is Beatrice's partner, who has his fair share of troubles, including an ongoing battle to stay sober.

Benz Anotine portrayed Tyler Joseph in both the original French series and English adaptation of 19-2. He has appeared in many series, including Rookie Blue, Bull, At the Hotel, and Blue Murder, as well as films like Romeo Must Die, Get Rich or Die Tryin', and Death Race. He also voices the character Baptiste in the video game Overwatch. Anotine was nominated for a Canadian Screen Award for Best Performance by an Actor in a Featured Supporting Role in a Dramatic Series for 19-2.

Bruce Ramsay

District Commander Marcel Gendron is cunning and manipulative. He is tough and often motivated by self-serving reasons, including his personal issues with Nick.

Bruce Ramsay has appeared in the films Alive, Collateral Damage, and the HBO film Behind the Candelabra. He directed, adapted, and starred in a film version of Hamlet. In 2016, he was nominated for a Canadian Screen Award for Best Performance by an Actor in a Featured Supporting Role in a Dramatic Series for his work on 19-2.

Conrad Pla

Sergeant Julien Houle is the well-respected and admired leader of the squad. He is blunt, but fair, and consistently defends and protects his team, even in the face of department politics.

Conrad Pla has had a long and interesting career. He has appeared in major films, such as 16 Blocks (starring Bruce Willis) and Riddick (starring Vin Diesel), and also wrote, directed, and starred in the film Burning Mussolini, for which he won the ACTRA Montreal Award for Oustanding Performance. Pla has been seen in many TV movies and series, including ReGenesis, Pure, and The Line. He began his career as a professional kickboxer and champion, but became an actor after an injury. Conrad was nominated for a Canadian Screen Award for Best Performance by an Actor in a Featured Supporting Role in a Dramatic Series for his work on 19-2.

Dan Petronijevic

J. M. Brouillard is a fellow beat cop with an attitude and short temper. While he is smart and hardworking, he consisently conflicts with others and struggles to control his anger. He harbors a dark secret that could threaten his job and reputation.

Dan Petronijevic has done extensive voice work for animated children's series', such as the Total Drama franchise, the Beyblade franchise, The Amazing Spiez, and Braceface. He appeared in the series Todd and the Book of Pure Evil and, alongside his 19-2 co-star Jared Keeso, Letterkenny.

Maxim Roy

Detective Isabelle Latendresse is an intelligent officer devoted to her job. She is Nick's ex-wife, which tends to cause tension and conflict, as well as the mother of their teenage son, Theo.

Maxim Roy starred in the TV series Bad Blood, for which she won a Canadian Screen Award for Best Lead Actres in a Drama Program or Limited Series. She also had a recurring role in the series ReGenesis, Shadowhunters, Heartland, and Defying Gravity. She appeared in the films Allure, alongside Evan Rachel Wood, Succulent and Savory, and The Fall of the American Empire. Roy was nominated for a CSA for 19-2 in the category Best Performance by an Actress in a Featured Supporting Role in a Dramatic Series.