Season 1 Overview
After a fortuitous drug bender saves his life, addict Jake ventures out into the quiet streets… unaware that most of the world already died in their beds. Now, battling sleepless fatigue and encroaching delirium, Jake teams with a scrappy teenager, overnight doctor and red-eye pilot to search for answers… and just maybe find a way to sleep again. Set in a world of insomniacs, late-shift workers and roving psychotics, Day 5 presents a unique vision of the apocalypse that fuses serial drama and thriller around a human story of survival and redemption.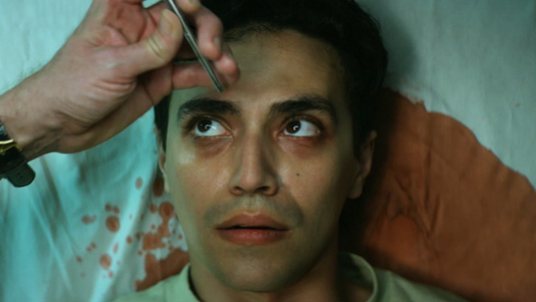 Cast Bios
Jesse C. Boyd

Jake is a meth addict who survives the apocalypse and is the main protagonist of the series.

Jesse C. Boyd has made appearances in many television shows including TURN: Washington's Spies, Hap and Leonard, and Meanwhile…, for which he also wrote and directed. Jesse is the lead singer for the band Prettydead Ferrari.

Walker Satterwhite

Sam is a 13 year old boy who is one of the survivors of the epidemic.

Walker Saterwhite is the host of Junk Drawer Magic and star of Junk Drawer Magical Adventures. He has also appeared in the series Schneck and Eck Crack the Case, OMG!, and The No Life Guys. Films include My All-American and Genesis. In 2017 Walker won both the Young Artist Award, for best teen actor in a web series, and the Young Entertainer Award, for his performance as DJ Hufnagel in "Rap Battles No One Asked For".

Stephanie Drapeau

Ally is a doctor who survives the epidemic while on her night shift and is determined to find a cure.

Stephanie Drapeau has appeared in several films including Cabin Fever 2: Spring Fever, Closure, Ripped and Sightings. She also appeared in series such as The Leftovers, Medium, and StartUp. Stephanie has a Masters in Social Work and is the co-founder of the One World Foundation.

Davi Jay

Ellis is a pilot and part of the survivors group.

Though at first a stage actor, Davi Jay has appeared in many hit TV shows, including Prison Break, Friday Night Lights, Treme, Walking Dead, and From Dusk Till Dawn: The Series. Films include Red Ink, Dear Sidewalk, and Parallels. In 2011, Jay co-founded a non-profit organization called Nola's Angels which raises money for charities through musical and theatrical productions.

Lee Eddy

Lex is another doctor who survives and is now actively searching for a cure. She also has a romantic past with Ally.

Lee Eddy has appeared in the films Mustang Island, I Don't Feel At Home In This World Anymore, and The Man From Orlando. TV Series include Petite Princess Yucie, Red vs. Blue, and Server Life. Day 5 isn't Eddy's only Rooster Teeth production--she also voices a character in the animated series Camp Camp.

Katie Folger

Meredith is a mysterious assassin who teams up with Ellis and has her fair share of secrets.

Katie Folger has appeared in numerous films, including the Honor Farm, Zero Charisma and Grow Up Tony Phillips. Like her costar Davi Jay, Katie has appeared in From Dusk Till Dawn: The Series.
About El Rey

El Rey Network is an English-language entertainment brand founded by maverick filmmaker Robert Rodriguez (From Dusk Till Dawn, Sin City, Spy Kids, Machete). Curated by Rodriguez and his artistic collective, the Latino-infused network revels in the courage, capacity, and creativity of ordinary people on extraordinary journeys through its unique original programming. In addition, El Rey Network showcases a wide range of iconic feature films and TV series including genre, cult classics, action, and horror/sci-fi.