Season 1 Overview
Join Taco Journalists, Mando Rayo and Jarod Neece on an epic taco journey in United Tacos of America. Uncover and explore taco life and culture through Birria in L.A., Carnitas in Chicago, Brisket in Austin, Nixtamal tortillas in NYC y más!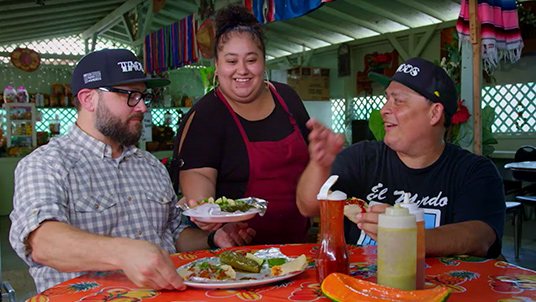 Hosts
Jarod Neece

Jarod Neece is the co-creator of Taco Journalism, co-author of bestselling books, Austin Breakfast Tacos & The Tacos of Texas published by UT Press. He is the co-host & co-producer of the PBS & ITVS documentary series, The Tacos of Texas and co-host & executive producer of United Tacos of America on the El Rey Network. When he is not eating tacos, he can be found at SXSW where he is a Senior Film Programmer and has been with the Festival since 2002.

Mando Rayo

Mando's experience is deep-rooted in Latinx communities. Mando is a digital story-teller and uses his Latino identity to inspire and build bridges through his multicultural marketing agency, Mando Rayo + Collective and his writings. From working with Beef Loving Texans, KLRU-TV, PBS Austin, Whataburger, Austin Film Society, People en Español y más, Mando shares stories through food, culture, documentaries and digital platforms. Mando is co-producer and co-author of 'The Tacos of Texas book (UT Press) & docu-series with ITVS IndieLens Storycast/PBS Digital Studios and has been featured on Bon Appetite Magazine, The Food Network, NPR, The New York Times, SXSW and now, El Rey Network.
About El Rey

El Rey Network is an English-language entertainment brand founded by maverick filmmaker Robert Rodriguez (From Dusk Till Dawn, Sin City, Spy Kids, Machete). Curated by Rodriguez and his artistic collective, the Latino-infused network revels in the courage, capacity, and creativity of ordinary people on extraordinary journeys through its unique original programming. In addition, El Rey Network showcases a wide range of iconic feature films and TV series including genre, cult classics, action, and horror/sci-fi.