Season 1 Overview
Chuey Martinez is a pop culture junkie, and he'd like to talk about it. This thirty-minute late night-style talk show aims to celebrate all things music, gaming, art, culture, and entertainment—with a healthy smattering of off-the-wall comedy and irreverent skits.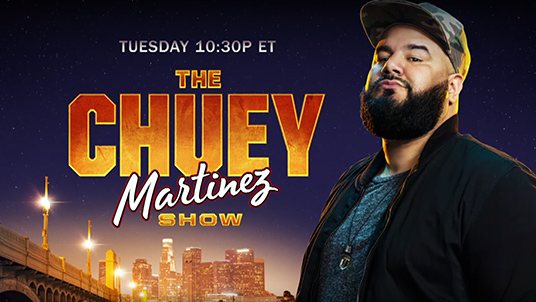 Cast Bios
Chuey Martinez

East Los Angeles' own Chuey Martinez, the popular Los Angeles TV/radio personality, who is known for his easygoing personality and being a pop culture junkie. Chuey can also be seen on Dish Nation, heard on KISSfm, REALfm, and iHeart Radio, and read in his New York Post column called "What I'm Watching."
About El Rey

El Rey Network is an English-language entertainment brand founded by maverick filmmaker Robert Rodriguez (From Dusk Till Dawn, Sin City, Spy Kids, Machete). Curated by Rodriguez and his artistic collective, the Latino-infused network revels in the courage, capacity, and creativity of ordinary people on extraordinary journeys through its unique original programming. In addition, El Rey Network showcases a wide range of iconic feature films and TV series including genre, cult classics, action, and horror/sci-fi.