Season 1 Overview
Thirty-minute geek-fandom panel show featuring a diverse ensemble of social media stars discussing and dissecting the worlds of gaming, film, and comic books. An enthusiastic celebration of fan culture and impassioned opinion; our show taps into the larger pop-culture conversation, serving as a platform and a voice to our loyal viewers and all of El Rey Nation.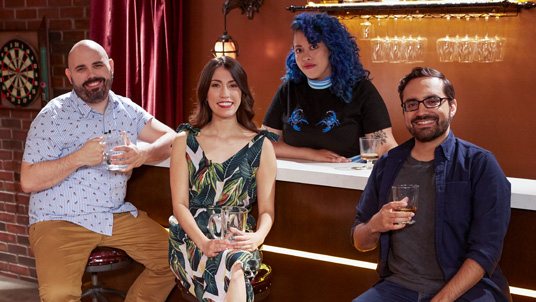 Cast Bios
Hector Navarro

Hector Navarro is originally from San Diego California, and has been attending Comic-Con since he was ten years old. His first love is comics and his close second loves are movies and animation. He's worked with Geek & Sundry and Nerdist, as well as hosted an animation podcast for Nickelodeon. He can currently be seen on DC Daily, where he gets to talk abotu his love of Batman Beyond as much as he can. His mantra is "anyone can wear the mask."

Kelly Nugent

Kelly Nugent is an actor, comedian, gamer, internet nerd thing doer, and podcaster! She can be found GMing or Role Playing on HyperRPG and Saving Throw Show. She is an avid reader, and you can hear her discuss YA pulp fiction from the 80's and 90's on her podcast Teen Creeps. She is also an avid shipper, and you can hear her ship everyone with everyone on her podcast Same Day Shipping. Her favorite stories are those that use genre to explore mundane issues. Sure, our characters might be in space or fighting giant spiders or both, but they might also fear being left out or getting a divorce or both. She is a Slytherin who loves cats and cheese.

Vanessa Gritton

Vanessa Gritton brings sharp, witty insights and a wealth of life experience to everything she writes. it's why her opinions are so in demand on outlets like Screen Junkies, and why she's a sought-after guest. Vanessa's writing portfolio is diverse - in addition to humorous contributions for online outlets, she's shared her gift for storytelling as a writer on upcoming shows.she always has something to ad, and her script punch-ups always receive high praise. If you want more Vanessa, she shares her thoughts on her own podcast and as a guest on others, breaking down pop culture and discussing cultural assimilation with equal passion. She's also a stand-up comedian and sketch performer, notably with Nightchurch, a sketch horror-comedy team.

Cameron Rice

Cameron Rice is a LA born director/photographer. If you engage Cameron in conversation, they're good odds the conversation will take a turn to be about movies, comic books, pro wrestling or the best burger place and where one should go get ramen. He's made appearances on Geek & Sundry, Screen Junkies, and HyperRPG. for the last decade, Cameron's performed and written in the LA comedy scene, having performed in San Francisco Sketch Fest, UCB and Sacramento Comedy Festival. He's excited to be part of El Rey Nation, and can't wait to share his passions with you.

Omar Najam

Omar Najam is a writer, director and avid RPG player from the bay area. After spending his childhood making no-budget horror movies and blockbuster parodies with his friends and brothers, he attended UCSB to study film making and new media. Since then, Omar has performed improv and produced videos for companies such as Geek & Sundry, DC Comics, BBC America, FOX and Disney XD. Omar also runs campaigns over at HyperRPG and Saving Throw. In his spare time he reads comics, knits, and plays with his cat Oliver Queen.

Vivian Martinez

Vivian Martinez (tambien viviana Martinez como quieras), an Angelena, began performing at an early age after a failed attempt at "science-y stuff." She's written for VICE, and been in numerous Super Deluxe and Buzzfeed videos. As a standup, she's opened for Nick Thune, and performs all over Los Angeles, CA. She won the Funny Women's Fest Stand Up Competition Dec. 2015 and is a three time UCB Diversity scholarship recipient. you can often hear her on the Smodcast network's "The Nooner." her latest performance in a short, "Ladyhunter", is premiering at the 2019 Tribeca Film Festival. She is the official host and Festival Director of Angaelica Fest in CA and has moderated Slamdance and AFI festivals. In her spare time she likes photography, reading sci-fi novels, SUNGLASSES, and visiting her Abuelita.
About El Rey

El Rey Network is an English-language entertainment brand founded by maverick filmmaker Robert Rodriguez (From Dusk Till Dawn, Sin City, Spy Kids, Machete). Curated by Rodriguez and his artistic collective, the Latino-infused network revels in the courage, capacity, and creativity of ordinary people on extraordinary journeys through its unique original programming. In addition, El Rey Network showcases a wide range of iconic feature films and TV series including genre, cult classics, action, and horror/sci-fi.