Keep Bleeding with Mike Escamilla
Season 1 Overview
A 1 hour interview show that dives deep into the behind the scenes and mindset of the people who have overcome adversity, injury, or unthinkable obstacles to reach their goals.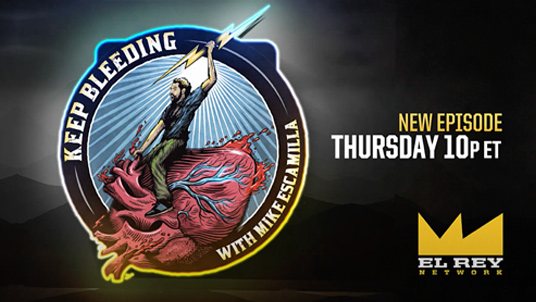 Cast Bios
Mike Escamilla

Mike Escamilla spent the last 25 years changing the sport of BMX and traveling all over the world. With over 60 countries under his belt he has worked jobs in most of them, everything from silver mining in Bolivia to disposing of unexploded ordinances in Vietnam. Voted one of Rolling Stones Magazines top 100 instagram accounts to follow, Mike is a true renaissance man. From having his own action figure with Jakks Pacific, being characters in multiple video games from Activision, receiving three signatures shoes for Etnies, as well as designing and being on the marketing team for products that have sold all over the world from companies like Gopro, Etnies, Eagle Creek, Nixon Watches, United Bikes, Uncharted Supply co. (which you can see on Shark Tank) including a wide range of kids bikes for the Tony Hawk Boom Boom Huckjam bike line with over 700,000 bikes sold. But lets not forget setting 2 Guinness world records on his bike, a 9 times X-games Athlete, being a New York times photographer, and a member of the Bike Over Baghdad team, which is now the most requested show from the Armed Forces Entertainment. Mike is also a Hollywood stuntman. He has crashed and exploded all over the silver screen in some of your favorite movies like Captain America Winter Solider, American Sniper and Guardians of the Galaxy vol.2 as well as starring in, producing or hosting over 100 episodes of multiple tv shows on NBC, TLC, ESPN, MTV, ABC, FUEL and more. If you didn't catch him there just look up, you might see him whipping around the skies in his wing suit or cruising the LA streets on his Custom Ural Sidecar motorcycle. But his true passion is adventuring with his 6 year old daughter Luna. Who has the same spark and curiosity in her eyes as Mike. From Rock climbing to snowboarding this Father/Daughter duo is heart melter. As a dad Mike has truly found the thing he was meant to do.
About El Rey

El Rey Network is an English-language entertainment brand founded by maverick filmmaker Robert Rodriguez (From Dusk Till Dawn, Sin City, Spy Kids, Machete). Curated by Rodriguez and his artistic collective, the Latino-infused network revels in the courage, capacity, and creativity of ordinary people on extraordinary journeys through its unique original programming. In addition, El Rey Network showcases a wide range of iconic feature films and TV series including genre, cult classics, action, and horror/sci-fi.