Season 1 Overview
Twenty-five years ago, Robert Rodriguez made his first feature-length film, El Mariachi. Armed with a budget of just $7,000 and 14 days to shoot his movie, Rodriguez created an award-winning film that changed independent filmmaking. To mark the 25th anniversary of "El Mariachi," Rodriguez has invited five aspiring filmmakers to Austin, Texas to take on the same challenge. The twelve-part "Rebel Without a Crew: The Series" follows filmmakers Scarlet Moreno, Alejandro Montoya Marin, Bola Ogun, Josh Stifter, and Bonnie-Kathleen "BK" Ryan as they attempt to shoot their own feature length film in two weeks with a budget of only $7,000.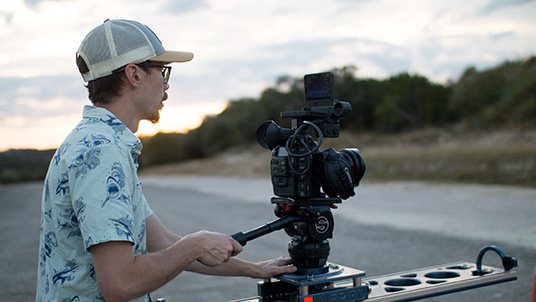 FILMMAKERS BIOS
Alejandro Montoya Marin

Born in Laredo, TX and raised in Monterrey, MX, Alejandro Montoya Marin is a first-generation American filmmaker and production manager.

After studying marketing in Mexico, Montoya moved to Canada to study film production at Vancouver Film School, specializing in directing. He then went on to live in Albuquerque, and has since produced work, such a s music videos, commercials and short films. His films have screened in numerous film festivals including Raindance Film Festival, The Napa Valley Film Festival, Hollyshorts Film Festival, Soho Film Festival and more.

Currently, Montoya divides his time between Los Angeles and Albuquerque where he works as a production manager for a local Spanish language TV station all while creating short films and developing two feature films.

Scarlet Moreno

A Laredo, TX native, Scarlet Moreno is a bilingual actress, writer and director. After graduating from TISCH School of the Arts at NYU where she double-majored in Drama and Journalism, Moreno moved to Los Angeles to pursue her dreams.

Since then, she has written and directed short films and music videos that have premiered at festivals, such as the Austin Sci-Fi Film Festival, Cleveland International Film Festival, Nine Worlds London Sci-Fi and Fantasy Film Festival, Other Worlds, NYC Chain Film Festival, Portland Film Festival and Toronto International Short Film Festival.

Moreno's first short film, Viv 1.0 or They Must Have Forgotten, won the Geek Feminism Award at Nine Worlds London in 2014 and was nominated for the Other Worlds Austin Sci-Fi Film Festival's Mary Shelley Award in 2015.

Bola Ogun

Born and raised in Dallas, Texas, Bola Ogun is a first-generation Nigerian-American and a former student of University of North Texas. She is an alumni of the AFI Directing Workshop for Women and the inaugural 2016 class for the Ryan Murphy's Television HALF Mentorship Program.

Ogun has previously produced the Emmy campaign music video for CW's "Crazy Ex-Girlfriend" and has a decade of production experience on notable projects such as The Dark Knight Rises, Neighbors, Battleship, "True Detective," and "Friday Night Lights." She has also shadowed directors Brad Falchuk, Michael Lehman and Rose Lee on projects like "Scream Queens", "The Brink" and "Faking It".

Her first short film The Water Phoenix received a California Institute of Contemporary Art Grant, premiered at LA Shorts Fest and screened at Sunscreen Film Festival and Citizen Jane Film Festival. Following her success, Ogun's second short Are We Good Parents stars Rent's, and Deathproof's Tracie Thoms and "Once Upon a Time's" Sean Maguire.

Bonnie Kathleen "BK" Ryan

Bonnie-Kathleen Ryan is an award winning Los Angeles based filmmaker and virtual reality producer. Ryan's short film, Three Legged Dog, was a 2017 official selection of The Atlanta Underground Film Festival and the Women's Only Entertainment Film Festival. The film took home "Best Dark Comedy Short 2017" at the Atlanta Underground Film Festival.

Ryan honed her directing skills shadowing director/producer Scott Winant on HBO's "True Blood" Season 7 and director Jet Wilkinson on the second season of Netflix "Jessica Jones." In addition to directing, Ms. Ryan's feature proposal Firewatch was a 2015 Sundance Sloan Commissioning Grant Semi Finalist.

Ryan began her creative career when she attended Boston University's College of Fine Arts and the Moscow Art Theatre School in Russia. She worked at The American Repertory Theatre before starting a career in Hollywood. She then went on to work as an actor appearing on television series "Murder in the First", "House M.D.", "Save Me", along with many independent films including Bella Vista, Volcano Girl, and ITVS Future States.

Josh Stifter

Josh Stifter started movie making during his time in high school, often spending his time animating and shooting footage or making music videos for class projects. After graduating, he learned how to animate while attending community college. Eventually, Stifter attended an art college and graduated on the Dean's List. Soon after, he got into his true passion—2-D animation.

Several years later, he began animating for Kevin Smith's podcast, making two minute cartoons from scratch—all while holding down a full-time job. After this, he began to work at a Christian media company, moving up to become an animation director after the first year. Through this, he was able to work on one of the bigger projects and won multiple awards for the work.

Since then, Stifter has continued making fun animation and short films whenever he can, even letting his son direct him while he films and working on animated series to pitch with friends.
About El Rey

El Rey Network is an English-language entertainment brand founded by maverick filmmaker Robert Rodriguez (From Dusk Till Dawn, Sin City, Spy Kids, Machete). Curated by Rodriguez and his artistic collective, the Latino-infused network revels in the courage, capacity, and creativity of ordinary people on extraordinary journeys through its unique original programming. In addition, El Rey Network showcases a wide range of iconic feature films and TV series including genre, cult classics, action, and horror/sci-fi.